oct 8th, 2017 Posted in
- Conférences et événements sur Woolf
|
Commentaires fermés
Voix de la littérature anglophone dans l'expérimentation musicale contemporaine
Journée d'études organisée par le groupe Confluences du CREA
Vendredi 13 octobre 2017
Université Paris Nanterre
Comment sa transposition en œuvre musicale renouvelle notre écoute et notre interprétation d'un texte source ?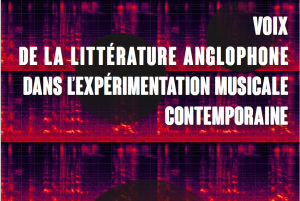 Dans quels aspects d'un texte littéraire puise-t-on les ressources pour les voix dans l'expérimentation musicale contemporaine ? Cette mini-journée d'études réunira compositeurs, musicologues et littéraires autour de ces questions. On interrogera tout particulièrement le rôle de la voix comme outil d'analyse poétique et comme instrument musical, car dans la rencontre avec la musique, la capacité de la voix à faire entendre le sens d'un texte mais aussi de le dérouter ou de l'abîmer est mise en scène, de sorte que, très souvent, le statut privilégié de la voix comme véhicule de l'anima ou de la vérité est mis en péril. Nous chercherons également à mieux saisir comment le paramétrage de scènes d'écoute crée des lieux singuliers de réception d'un texte. Il serait enfin question des enjeux de l'écriture d'un livret, afin d'explorer comment la finalité musicale et scénique détermine la traduction d'un texte littéraire en livret ainsi que les spécificités de cet exercice d'écriture.
A 10h50, entretien avec Violeta Cruz autour de The Lake of My Mind, œuvre chorale tirée de The Waves de Virginia Woolf (création Paris 2015). Conversation animée par Naomi Toth.
Programme complet ici.
*