oct 10th, 2013 Posted in
- Publications
|
Commentaires fermés
Alexandra Harris, Virginia Woolf,Thames and Hudson, 2011.

ISBN 9780500515921, 192pp, 46 Illustrations.
This gripping new account offers an ideal introduction to both the life and work of Virginia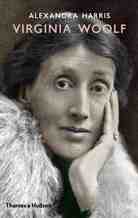 Woolf. It considers each of Woolf's novels in context, traces the contentious course of her 'afterlife', and shows why, seventy years after her death, Virginia Woolf continues to haunt and inspire us.
Alexandra Harris uses vivid flashes of detail to evoke Woolf's changing backgrounds and preoccupations. We move from the close-packed rhythms of a Victorian childhood to the experiments of 'Bloomsbury'. We see her 'drawn on and on' to tackle ever more challenging forms of writing.
Cultural historian and writer Alexandra Harris is a brilliant, original and wonderfully engaging new voice whose first book, Romantic Moderns, was published to huge acclaim.
More information here.
*